Billing for Business Subscriptions is Different
The process of billing customers is an essential component of every business, and every business leader knows that billing needs to be accurate and efficient. These basic principles are no different for B2B subscription commerce.
However, just about everything else associated with billing is, in fact, quite different when you're selling subscriptions to businesses. That's why, before you create your go-to-market plan for subscription commerce, you should get up-to-speed on the requirements for the billing engine you'll need as a core part of your subscription commerce platform.
Recurring Billing that is Ready for Subscription Commerce
There are dozens of recurring billing tools on the market that can handle subscriptions. However, subscription commerce requires next-level flexibility to accommodate the complexity of direct and indirect channels, billing across ecosystems, different pricing based on a range of usage scenarios, procurement across large organizations with different processes, and more.
This chapter covers:
Six aspects of a billing model that can handle subscription commerce
Three dimensional
Dependent on customer usage
Agile and holistic, instead of product-centric
Flexible
Ecosystem- and channel-ready
Powerful and Connected
Billing that is Subscription Commerce-Ready is: Three Dimensional
One-time transactions have two primary variables: price and quantity.
Most existing billing capabilities—those found in enterprise resource planning (ERP) systems, for example—were designed with these two dimensions in mind. A company uses the billing system to invoice a customer for a particular product or service at a certain price for a certain quantity.
With subscription commerce, billing becomes significantly more complex because of the added dimension of time. Your company bills a customer an amount on a recurring basis based on a certain pricing model. Take an industrial device, for example, such as a component for a wind turbine. The manufacturer used to sell it as a standalone product, but it added sensors that can detect heat and vibration.
Now the company sells subscriptions to the data generated by the component as well as predictive maintenance. These add the third dimension to billing, time, because the customer is getting charged at set intervals (for the data subscription) and for services (maintenance) that will happen periodically but can't be predicted.
In subscription commerce billing, the amount may be fixed or variable depending on whether some or all of the pricing is based on actual consumption of the product or service by the customer. Time also plays a role for certain contractual or sales terms, such as introductory discounts that are effective for the first three months of the subscription.
How Time Impacts Subscription Billing
| | | |
| --- | --- | --- |
| | Old "two-dimensional" model | New "three-dimensional" model |
| Transactions | One-time | |
| Price | Fixed | |
| Units of Measure | Quantity of units | Quantity of units, consumption, or a combination |
| Discounts | One-time | One-time, variable, time-based |
| Profit | Unit margin | |
Transactions
Old "two-dimensional" model
One-time
New "three-dimensional" model
---
Price
Old "two-dimensional" model
Fixed
New "three-dimensional" model
---
Units of Measure
Old "two-dimensional" model
Quantity of units
New "three-dimensional" model
Quantity of units, consumption, or a combination
---
Discounts
Old "two-dimensional" model
One-time
New "three-dimensional" model
One-time, variable, time-based
---
Profits
Old "two-dimensional" model
Unit-margin
New "three-dimensional" model
Dependent on Customer Usage
The general trend in the subscription commerce market is to move to consumption-based pricing, where customers only pay for what they actually use. Companies with a large platform solution sometimes charge a combination of a flat, recurring rate for the core product and usage-based billing for transactions, features, and so on. In fact, there are many different metrics used to define usage—from the number of concurrent users to volume of daily transactions, the number of times a service is used, to the number of minutes a product or service is used.
Whether or not you plan to have usage-based pricing from the start, your products and services should have a way to track and report consumption to your billing system. Your billing engine must be able to understand and use consumption data to accurately calculate the appropriate pricing each month for each customer, including any fixed or recurring fees (often billed in advance) and usage fees (billed in arrears).
How Time Impacts Subscription Billing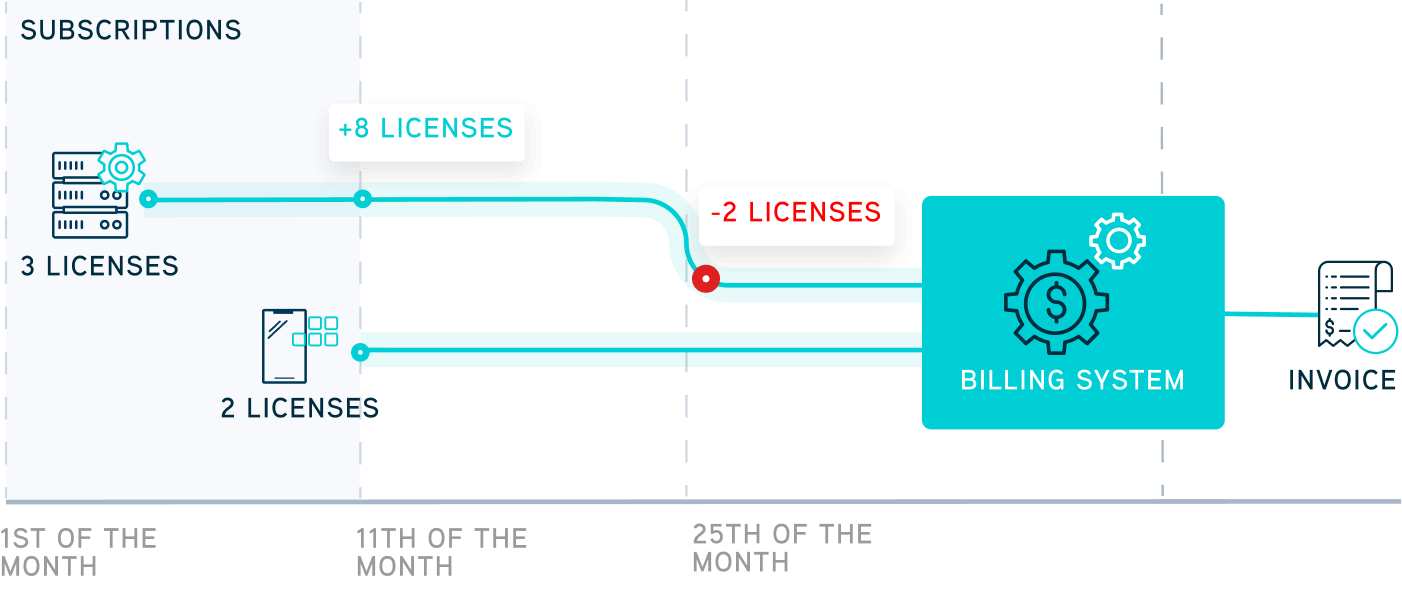 Download the AppDirect
Definitive Guide to Subscription Commerce
Agile and Holistic, Instead of Product-Centric
Traditionally, B2B commerce has been product-centric, with a catalog of physical goods that were sold and shipped to customers. Back-office processes and supporting systems, such as ERP systems, were built around the concept of products, catalogs, inventory, and one-time transactions to sell those products to customers. Simply stated, ERP systems and other billing tools were designed to automate invoices and collect payments for products.
B2B subscription commerce, on the other hand, is dynamic. It goes beyond one-time transactions and can easily support customer relationships that change over time. Subscribers purchase additional products and services, they decrease or increase the number of users accessing your service, they increase usage or want to add new modules, just to name a few changes. Your subscription billing engine must be able to easily and automatically handle changes to the relationship as they occur.
This can't be overstated: The systems and processes for subscriptions must be automated. If any part of your shift from a product-centric business to a subscription model requires manual processes, your growth will not be sustainable.
---
Example
A large IT managed services provider was growing its cloud subscription business exponentially, but its backend struggled to keep up. The provider's legacy systems, including an antiquated ERP solution, were not built for subscriptions. Every transaction was invoiced separately, and their solution bundles—packaged together purportedly for convenience—had to be billed separately. It was a recipe for frustration, for both the provider and its customers.
---
The bottom line is that customers want a seamless experience across the entire lifecycle, from discovery, to quote, to purchase, to invoicing, to payment, to provisioning, and access—across any sales channel. Automation is the only way to achieve this type of experience.
Flexible
Traditional billing capabilities are fairly rigid, and with some solutions, once pricing is set it can be very difficult to change.
On the other hand, billing that powers recurring products and services must be highly flexible. Customers must be able to temporarily suspend a subscription, resume a subscription, upgrade or downgrade, add users or locations, add new capabilities or products, and more.
The billing engine must understand the terms of the relationship and calculate pricing accordingly, including prorating fees accurately whenever a change is made. It must handle these changes gracefully and efficiently, without manual workarounds that create inefficiencies and inaccuracies that result in a poor customer experience.
For maximum flexibility, providers should enable customers with self-service tools that allow them to manage subscriptions on their own.
---
Example
Take a telecom company that handles SaaS subscriptions through assisted sales. Existing customers shouldn't have to talk to another salesperson to upgrade, downgrade, or cancel their subscriptions. Only a full subscription commerce solution that offers both front- and backend capabilities can easily enable customers to make those types of changes.
---
Ecosystem- and Channel-Ready
Not all of the products or services you plan to sell may be your own. It can be very lucrative to take a platform approach to market, where your core product is complemented by add-on capabilities delivered through products and services from third-party vendors. This lets you get to market quickly with new features that solve more of the customer's problems, which, in addition to increasing your revenue, also increases customer stickiness.
Likewise, you may want to grow your revenue through channel sales, with resellers assisting customers in purchasing and using your products and services. Your billing engine needs to deliver all the capabilities required to seamlessly support both situations—third-party products and services as well as third-party sales agents. For example, the billing engine needs to understand when to apply any mark-up or mark-down to third-party products or sales made via resellers for their customers.
There's another aspect of ecosystem and channel readiness that is often overlooked: invoicing, specifically the ability to produce custom invoices branded with the logo of the merchant of record.
For example, if a reseller sells a product and is the merchant of record, a billing solution needs to be able to brand the invoice for the reseller. Likewise, if the company that makes the product is the merchant of record, a solution needs the flexibility to brand the invoice as the company, even if the product is sold by a partner.
Finally, in order to be truly ecosystem- and channel-ready, it should be easy to share subscription billing data across organizations. Many teams—from finance, to sales, to marketing, and more—will need to access subscription information, so you need a way to extract and share relevant data with the other systems that teams use to manage their part of the business. It must be easy to find the data, customize it, automate reporting, or offer APIs to share it with other systems.
Powerful and Connected
In addition to easily handling the complexity around B2B subscription commerce, your billing engine should also include advanced billing capabilities that support modern and evolving B2B commerce, including: taxation, supplier and reseller reconciliation, and different payment types such as credit cards, ACH payments, invoices, and others.
The Best Path to Subscription Commerce Success: A Platform
While it's important to understand why traditional billing systems can't support B2B subscription commerce, it's equally important to know that standalone subscription billing tools aren't enough to make subscription commerce successful.
Chapter 4
Key Takeaway:
To be successful, you need a robust subscription commerce platform that supports and integrates everything needed to deliver a frictionless experience for your customers.
Billing is one very important component, but it's only part of the engine that will enable your business to move fast and reap the rewards of the subscription commerce model.
---
Up Next
Decide: Build vs Buy
---